TL;DR: Through Dec. 8, you can get the Alpha Z PRO 4K + Flying Fox 4K Wide-Angle Dual-Camera Drone Bundle for just $129.99 instead of $398 — that's a 67% discount.
---
Get a gift that may make adults feel like kids and teens feel like adventurers. You may have seen drones or quadcopters on a few different wish lists this year, but now you can cross two of them off at the same time. Get two drones for the price of one when you pick up the Alpha Z Pro and Flying Fox bundle for just $129.99. You can even make sure they arrive in time for the holidays if you order by December 8.
A fun new way to explore the outdoors
The sky isn't the limit this gift-giving season. These two drones could give your loved ones a 4K bird's-eye view. The Alpha Z Pro is an agile black quadcopter with dual cameras. Adjust the front-facing camera up to 90 degrees to literally look around in the sky. Hit Altitude Hold Mode to stay steady and take a peek through a live first-person view streamed directly to an app on your phone.
Ride the wind with a six-axis stabilizing gyroscope and four channels of movement. There's even a button to do a 360º roll in case you wanted to know what riding a roller coaster in the sky looks like.
The Flying Fox would make an equally impressive gift. Fly for up to 12 minutes on a single charge. Use four channels of control, or try out the palm and gesture controls. Avoid an uncertain landing and just press the one-key automatic return. Make sure your giftee knows to fold their Fox up tight. That also makes it even easier to transport.
Two drones for a low price
Order two drones and make sure they arrive in time to put them under the tree. December 8 is the last day to get the Alpha Z Pro and Flying Fox 4K drones in time for the holidays.
Prices subject to change.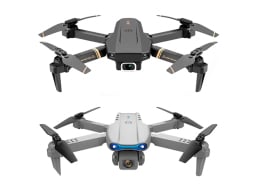 Opens in a new tab